Service and Inspection Capabilities
Get insights for your maintenance team and the insurance industry



Predictive Maintenance of Critical Assets
Global-PAM's Engineer Team specializes in asset management (ISO 55000) of large-scale power transmission equipment for heavy industry such as mineral processing, cement, and pulp/paper.
We are experts in the engineering, design, manufacture, installation, inspection, and maintenance of power transmissions and structural components for mills, kilns, driers, and crushers.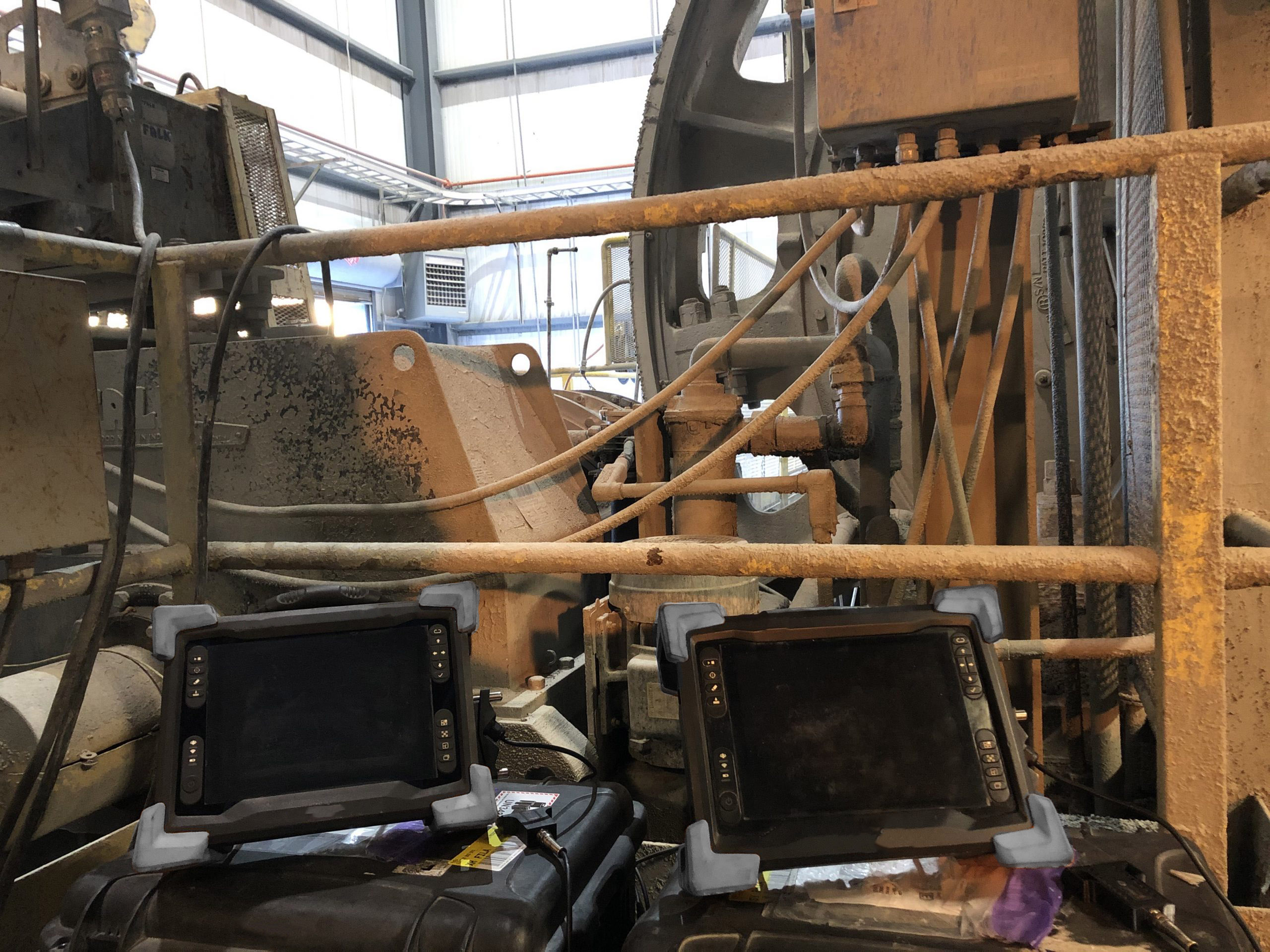 We
conduct annual inspections and risk assessments


for all types of equipment:
Gears, and Grinding
Bull Gears
IsaMill and HIGmill Fine Grinding/Stirred Milling Equipment Specialists
Pump, Crusher, Conveyor, Screen, Scrubber maintenance alignment, condition monitoring
Mobile Equipment
Shovels
Drills
Draglines
Haul Trucks
Mobile Equipment
Lifting Devices
Pipes and Turbines
Power Turbines
Tailings Pipes
Plant Piping
Pipelines
Advanced NDT Services
Phase Array Ultrasonics (CSWIP & PCN)
Eddy Current Array
Girth Gear Inspection Deliverables:
We provide a complete non-destructive examination of the integrity of the mill gear teeth in accordance with ASTM E2905, for macro-pitting and cracking. We analysis the data as we scan the teeth.
If cracks are detected, we provide remedial relief (excavating services) during the inspection site visit. Shutdown time could affect these services.
We can clean and inspect a girth gear set in under 10 hours; saving valuable downtime and increasing production revenue.
We also provide an onsite failure analysis as per AGMA 1010-F14 of the failure modes present, if any, their severity, and how these might impact the operational function of the mill. A clean gear set is a mandatory for this analysis.
The final report provides a concise insight for the maintenance team and insurance industry on the level of exposure being presented by any operation relating to girth gear teeth.
IsaMill and HIGmill Fine Grinding/Stirred Milling Equipment
We provide a complete Mechanical Mill Inspection of all MIG and UFG grinding applications.
We provide full installation and commissioning support throughout all stages of the equipment.
We provide Maintenance and Operational training for All grinding applications
We provide continuous improvement solutions to allow for improved operations of the fine grinding circuit.
Mill Shell, Heads, Trunnions
Shell Mapping Program utilizes its Rapid Scan Technology™ to find the minimum thickness in a given area. The mill is usually separated into rows and columns using the liner bolts as a guide. Each of these quadrants are entirely scanned with RST™ and the minimum thickness will be recorded. If there is an area with excessive wall loss, this area will be mapped and marked out on the mill shell as well as in the report. The information will be plotted in an excel sheet and this will also corollate with a colour scale so that the problem areas can be easily identified.
Additional Mill Services
Ball Mill Trunnion Seal Replacement, Supervisory service, or a full crew to complete the seal replacement can be arranged.
Ball Mill Annual Inspection, to ensure the mill and all the auxiliaries are all still in good condition. This provides an outside perspective on the current install base and allows a firm communication on recommendations/challenges to improve on.
Gear to Pinion Tooth Clearances recorded at 4 stages of the gear. This will help have a general overview of the Gear Ovality. Supervisory service or a full crew to complete the seal replacement can be arranged.
Drive train alignment if needed, including pinion and girth gear replacement. A full girth gear and pinion assemble preparation for installation can be discussed on a case by case. Supervisory service or a full crew to complete the replacement can be arranged.
Pinion alignment, pinion changeout oversite, mill gear oversite for flipping or changeout.
Gear Guard Felt Seal Replacement. Supervisory service or a full crew to complete the seal replacement can be arranged.
Physical Asset Management
Acquisition
AGMA ratings and drive train design, manufacturing, and installation.
Quality assurance documentation, including critical manufacturing procedures and standards for major mechanical parts girth gears, pinions, mill shells, heads and trunnions.
Manufacturer audits, and oversight during critical inspections and documentation signoff prior to shipment of goods.
Commissioning
Girth gear and pinion installation oversight.
Proper installation procedures are followed.
All critical steps are documented and available for future reference.
Operation and Maintenance
RCM approach to maintenance, and audits of existing maintenance plans.
Preventative maintenance tasks tied to specific failure modes.
Predictive maintenance tasks, to detect potential.
End of Life
Provide a procedure for inspection and verification on suitability for open gear and pinion flipping.
Provide a framework and decision-making process for replacement gears.
Advanced NDT Services
Global technicians are experts in advanced non-destructive testing services. Our specialties are Phase Array Ultrasonics and Eddy Current Array. We used the most advanced technology to save the asset owner time and money. We are well experienced in lifting device inspections and certification.
Reverse Engineering

We can create "manufacture ready" drawings from our 3D scanning that can be used to obtain various quotes for engineered components. These can be quickly adapted for variations of concepts. The asset owner keeps the drawings.
Shovel, Drill and Haul Truck Reliability Program
To substantially lower equipment costs per hour and/or tonnes and develop well forecasted annual and multi-year operating budgets. This is critical in optimizing component life cycles and increasing fleet availabilities. We can provide Shovel and Drill Consultations that include PM optimization; Shovel and Drill cost per Hour enhancements; Life Cycle optimization on components; OEM alternatives for repair and component rebuilds.
Types of failures we check for:
Tooth Fracture
Wear
Severe Abrasion
Scuffing
Indentation
Plastic deformation
Cold Flow
Tip-to-Root Interference
Tight Mesh
Hertzian fatigue
Severe Progressive Macropitting
Spalling
Cracking
Hardening Cracks
Grinding Damage
Rim Cracks
Bending Fatigue Cracks
Low Cycle Fatigue Cracks
High Cycle Bending Fatigue Cracks
What are the risks of tooth fracture?
Broken segment wraps around and goes through mesh, the mill or kiln may jump the foundation. This can damage the footing, foundation, trunnion bearings or rollers, the cost of lost production and repairs can easily exceed $50M in mineral processing circuits.
Load is now concentrated in a smaller area increasing stress resulting in complete tooth loss and loss of torque transmission.
Load sharing with surrounding teeth decreases resulting in additional fractured teeth and loss of torque transmission.
Vibrations increase causing damage to the bearing elements.
Mill head bolts break distorting and damaging the mill shell? which can cause slurry ingres into the gear set.
Do I need annual inspections?
Is the gearing part of a single circuit where failure would bring the line or plant down resulting in lost production. Or is it part of a redundant circuit where failure would cause minimal lost production as material can be processed through the other circuit?
What is the operating schedule of the gearing 24/7, 8 hours a day or once a week? This will help determine the impact of a functional failure
What is the age of the equipment in operating hours, gearing does demonstrate an increase in failure rate with age?
What is the overall condition of the gearing, good, fair, serious, or critical?
Speak to a Representative

 Minimize catastrophic failures,
reduce maintenance costs and increase your asset uptime