Crusher Vision is an automated closed side setting system for gyratory crushers that measures the gap between the concave and mantle.
Crusher Vision has developed patented novel technology that offers the mining sector the opportunity to increase throughput, decrease maintenance costs, decrease power consumption and greatly reduces the safety concerns by implementing a system for non-disruptively measuring wear on gyratory crushers.

Description:
Crusher Vision was developed to minimize down-time when determining the closed side or open side settings in the mining sector. Crusher Vision will reduce maintenance costs, reduces power draw, increase throughput and eliminate a safety hazard when taking closed side or open side settings. Current manual methods of determining the CSS/OSS are inaccurate, dangerous and require that the equipment be shut down for at least an hour, which results in production losses. In contrast, Crusher Vision can measure CSS/OSS when the crusher is operating, but empty, allowing an operator to obtain results within a few minutes. As there is little or no downtime, readings can be taken daily with little impact on productivity. With accurate data, a mine operator can trend the mantle liner wear daily, predict mantle liner life and plan mantle liner changeouts with accuracy.
Benefits of Crusher Vision:
Improve the planning of mantle and concave wear cycles
Reduce emergy consumption
Reduce downtime for crusher operation
Improve throughput
Reduce operating costs (TCO)
Reduces safety concerns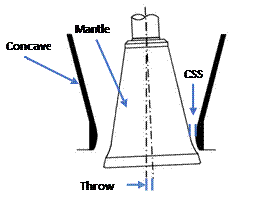 The standard method for determining wear on the mantle is to lower a galvanized steel bucket or led ball into the crusher then measuring the amount of deformation on the bucket or lead ball. This method is highly inaccurate, time consuming and poses significant physical risk to the operator.
When the system, utilized daily, the crusher tonnage or production is maintained at the forecasted numbers. Too tight of setting reduces tonnage and can adversely affect the crusher mechanics and motor amp draw. If the CSS is too large it will affect choke feeding as it cannot be maintained, and will send coarse material to the mill reducing tonnage and crusher effectiveness.
Impact on the Mining Sector:
Open pit mining worldwide utilizes gyratory crushers as the primary crushing circuit that feeds the mills. In some cases, the mantles are changed approximately every seven weeks at a cost of approximately $150,000 each time. It is expected that the present technology will result in at least one less mantle change-out per year. At one large open pit mine, for one crusher, the reduction of downtime translates into increased productivity of about 780,000 tons annually, based on production of 20,280,000 tons annually. The replacement of crusher operators with the system saves a mine about $500,000 a year in North America.