Our capabilities are in the third-party girth gear engineering support, design, installation, inspection, risk assessment, and maintenance of large girth gear systems.
Acquisition
AGMA ratings and drive train design, manufacturing, and installation.
Quality assurance documentation, including critical manufacturing procedures and standards for major mechanical parts girth gears, pinions, mill shells, heads and trunnions.
Manufacturer audits, and oversight during critical inspections and documentation signoff prior to shipment of goods.
Commissioning
Girth gear and pinion installation oversight.
Proper installation procedures are followed.
All critical steps are documented and available for future reference.
Proven methods for aligning girth gear and pinions rapidly with minimal shimming iterations.
Logistic Support
Resource support plans, total cost of ownership.
Training programs.
Optimization of insurance spend, maintenance spend, and sparing costs.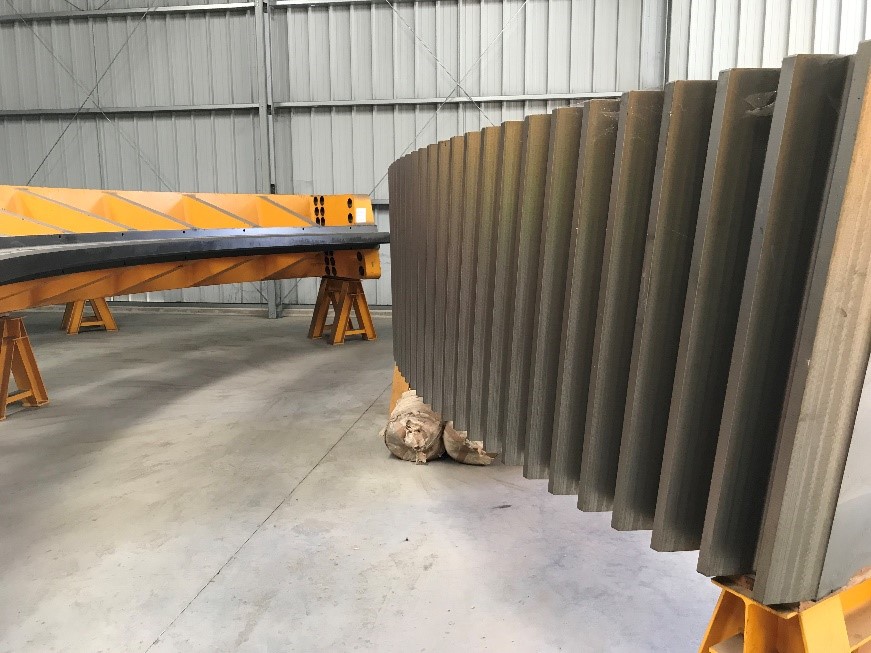 Operation and Maintenance
RCM approach to maintenance, and audits of existing maintenance plans.
Preventative maintenance tasks, tied to specific failure modes.
Predictive maintenance tasks, to detect potential failures.
Girth Gear Inspections per ASTM E-2905.
Structural Inspections, Shells, Heads, Trunnions, Rollers, Riding Rings.
Operational inspection tasks and intervals.
One time or engineering changes can be implemented where the probability of failure and consequences of failure are deemed unacceptable.
End of Life
Provide a procedure for inspection and verification on suitability for open gear and pinion flipping.
Provide a framework and decision-making process for replacement gears.
Assess alternative solutions to scrapping old gearing, dependent on condition and structure.
Services We Offer;
Complete inspection and evaluation Gear set replacement
Design upgrades for increased production Installation and reversal
Alignment services
Lubrication systems